Wednesday night's TV listings read like this:
5.30pm-6.00pm Channel 4 - Come Dine With Me
7.00pm-8.00pm BBC 2 - Hairy Bikers' Best of British
8.00pm-8.30pm Channel 4 - How To Cook Like Heston
8.30pm-9.00pm Channel 4 - The Fabulous Baker Brothers
9.00pm-10.00pm BBC 1 - Masterchef
That's 3 1/2 hours of food programmes in one evening alone. And let's not forget about the re-runs of Come Dine With Me on More4.
Now, I'm not saying I don't like any of them (there are some I don't like), but what's that old food adage again? Oh, yes...
Everything in moderation.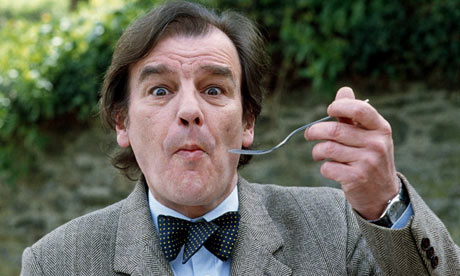 Some programs just aren't good enough. They're lacking in quality. Whilst the sheer volume of food shows takes that special feeling. Like when you listen to that song you love so much, and you end up hating it.
Let's have fewer of them, make them better, and make them special.
I do have to say that I think there are some programmes/chefs that I just cannot get enough of: Gordon Ramsey; Hugh Fearnley-Whittingstall; Nigel Slater; and (most of) Heston Blumenthal.
What do you think? Is there too many or not enough? Are they good enough?
And, what are your favourites? Past and present.